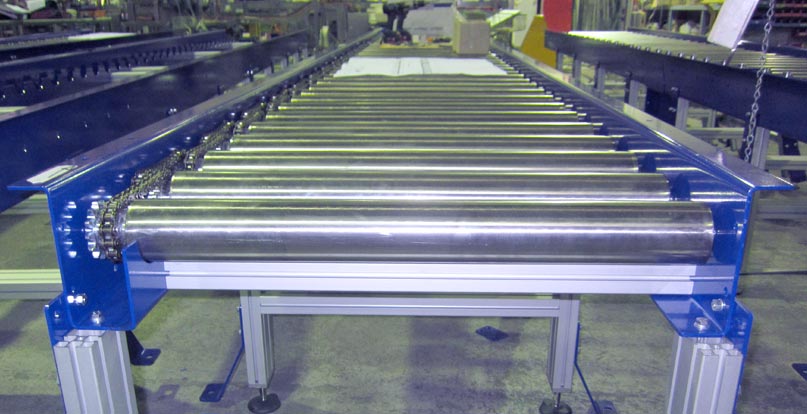 Sprocket Driven Roller Conveyors
Advance Conveyors offer Australian Made, Sprocket Driven/ Powered Roller Conveyors as an alternative to powered line shaft conveyors. Sprocket Driven conveyors are fully modular. We offer straight, curved, merge and transfer modules. You can add modules together to form longer driven conveyor sections. The system includes zoned drive capability featuring up to 3 drive positions. Drives can also be added at any time for future expansion or for zero pressure accumulation.
Our sprocket driven rollers feature a chain to chain drive mechanism meaning fully positive drive and very low maintenance.  Using sprockets to drive the roller conveyors eliminates the rubber band and drive shaft seen in Line Shaft roller conveyors, which means greatly reduced maintenance, no need to replace rubber bands and no danger from an exposed drive shaft. All drive chains on our sprocket driven roller conveyors are fully guarded and the precision bearings are used in the rollers. This results in operators requiring very little maintenance for this type of conveyor (compared to a line shaft conveyor).
We offer options for:
mild or stainless steel construction. Mild steel available as painted or galvanized.
an integrated cable tray for motor and sensor cables which allow for quick, easy and neat wiring of the system without the need to install separate cable tray
high sides that become integrated guide rails or
low sides for areas where operators may interact with the product and require easier access (e.g order picking or sorting)
Need help?
Contact us for further assistance in costing your Sprocket Driven Roller Conveyor system.
Other Powered Conveyors are also available
Contact Us